From the President's desk...
Summer in Mammoth is about being pulled in many different directions at once.  Too much to do, too little time -- mix in a bunch of bureaucratic landlords, and well, you've got the makings of another eastern sierra summer.
Highlights -
1. Youth camps -  after coming off a bender of 19 days worked in a row, I'm happy to say that organized youth recreation is bigger than ever in our depressed economy.  Don't know the answer to why, but probably because it's great value for the money.  Plus it all takes place locally.  When roped into being a camp counselor for 3 weeks, I gave it everything I had - showed the campers what it was like when I was a kid here. 
"Why aren't you always our camp counselor?", posed a young participant.  Good question!
2. Travel management - our first club letter to the USFS was ignored for a month so I sent a follow-up.  This time I heard back.  First from Paul (FOI), second from John Regelbrugge (USFS).
John gave me the standard USFS talk about making fixes to TM.  It had a lot to do with NEPA's, EIS's, reviews, etc.  Frankly his conversation was hard to follow.  Where was all this environmental work done to close specific routes?  Why is it now required to open one?  I thought that travel management was accomplished by someone closing roads on a computer map and then sending others to go out and implement said computer road closure.  Easily done, but now the reverse (or fix) isn't as simple as moving debris and clearing the route.
Anyhow, what I did get out of the conversation with the district ranger was that we need to begin somewhere.  We will fill out a form (Field Implementation of Inyo NF Management Comment/Observation Form), the "FIINF MC'OF", and email it into Jon K. and copy it to John R.  Hey, it's a start.  And the acronym sounds like an olde Irish name, Finf McCuff.
3. Crowley Lake/Hilton Creek community garden - what a change!  We've gone from empty barren decomposed granite and well composed granite boulders to a lush garden.  Perhaps not as lush as Bishop's community garden, but who wants to hang out and garden through the Bishop summer anyway? 
The 5000 square foot CCG involves real hands on work.  It practically needs to be watered every day and the push to get the fence built from Bridgeport county staff had me reminiscing about working with Jim Upchurch on travel management.  But, work through it we did and the fence is being constructed as I type.  Last on my list is to get other contractors paid for work they did on the garden, who said volunteering was easy, if it was it would be called snowboarding, or skateboarding.
I don't take gardening too seriously, but I like it.  Have hundreds of pounds of fresh fruit production in the works at home.  All the staples like apples, pears, cherries, grapes, raspberries, strawberries, and a lot of the unknowns like currants, gooseberries, chokecherries, and Lonicera cairulea.   A favorite pastime is picking up a bottle of the 47 pound rooster from the Crowley Lake store and pairing it with fresh picked berries from the backyard.
4. Yes, this report is getting lengthy.
 Had more to say but will wrap it up with this:
5. Rain/hail/cloudbursts and giving credit where credit is due:
This summer if you've been riding the Mammoth dirt and timed a rain burst then you've experienced the best trail conditions possible.  I've racked up a few hundred dirt miles mostly commuting to and from work -- soaked earth is like the choice blue-bird powder day, sometimes you just have to suit up and do it.
Credit due to Inyo Recreation - California Land Management (CLM) and the National Park Service (NPS).  First off, while camping up at Coldwater Creek campground on a couple different occasions the camp host was friendly, open minded, and actually made the time to complement (and critique) our group more than once.
The NPS, sometimes an easy target, is at least getting out there and mixing it up with the general public at the Mammoth Lakes Welcome Center interpretive plaza.  Public outreach goes a long way, compared with those who dream up problems to fix from behind a desk.
Big thanks to all that come up and enjoy our area!  To the softball tournament players, ADVriders, campers, fishing folk, hikers, and 4x4 wheelers - the club appreciates the support.  Keep this in mind, September and October get even better.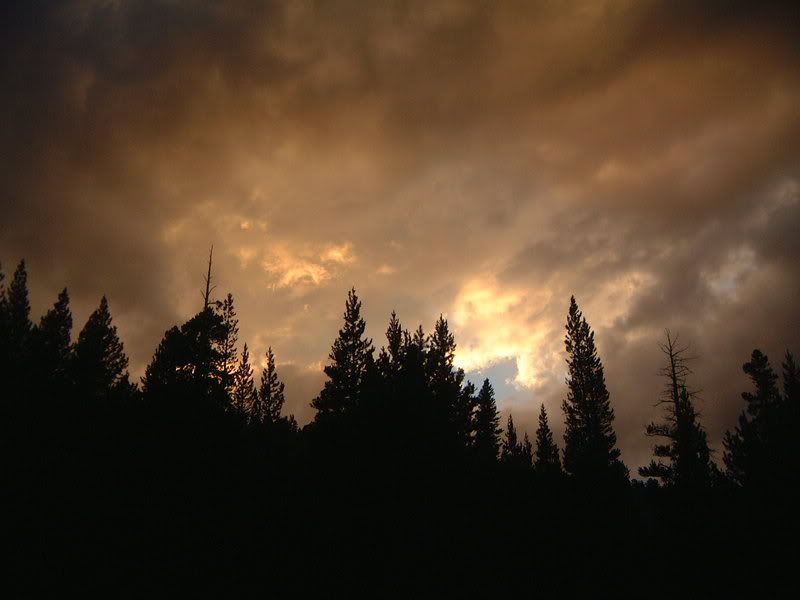 The rain is coming.